---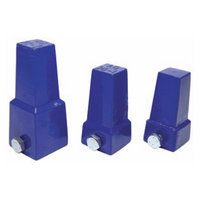 False Valve Tops for Underground Hydrant Valves
Manufactured in a range of sizes to fit underground hydrants BS 5163 taper.
Designed to fit the original hydrant valve top and secured into position using the pinch bolt.
The fitting of these false tops allows the valve to be operated using a standard valve key.
Other sizes are also available to enable the use of Jumbo and Euro size keys.
To assist you in making your choice; the three valve key sizes are listed below:
Standard valve keys have a square of approx. 1 3/8" (35mm)
Jumbo valve keys have a square of approx. 42mm
Euro valve keys have a square of approx. 48mm