---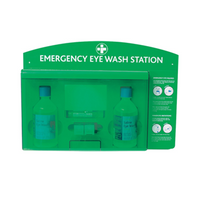 Enjoy peace of mind with this emergency eye wash station. It's suitable for use if a chemical or irritant gets in your eyes, with supplies to flush or irrigate the eyes and dress the wound afterwards.
This eye wash station can be mounted on a wall and is brightly coloured, making it easy to find in an emergency. It's ideal for use in the workplace or areas where chemicals and irritants are handled.
Included in the eye wash station are two 500 ml sterile saline solution eyewash bottles, 2 eye pad dressings and a mirror for easy application. A lift-up casing protects the items inside from accidental knocks.