---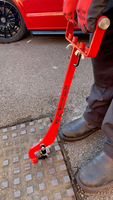 The Easy-Lift Manhole Cover Lifter is designed for one person to lift manhole covers with minimum effort. A compact tool is manufactured to high standards along with an affordable price tag. The foot on the Easy-Lift enables the user to get more purchase when lifting a cover. Keys are interchangeable, simply choose the key suitable for the cover, screw in and lock into position. Unique design enables keys to be stored in the handle along with a dirt pick. Easy-Lift Manhole Cover Lifter is supplied with 3 keys. Easy- Lift Manhole Cover Lifter can be used in pairs.
Features:
- Interchangeable Keys
- 3 Keys Supplied
- Dirt Pick Supplied
- Keys & Dirt Pick Stored in Handle
The keys that are included are sizes of 10mm x 34mm, 8mm x 28mm and also an 8mm Hook.  These are stored at the top on the handle.