---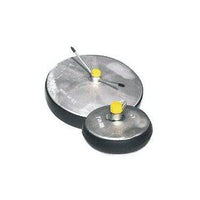 These are used for plumbing operations in domestic, industrial water and drainage systems. Suitable for more arduous duties such as long immersion in water and use at higher temperatures or for contact with acidic or alkaline environments for which the Nylon may not be suited, or for larger 6" ID pipework.
Also for ducting and conduit, swimming pools, masking in painting and casting industries, as weld purge plugs for stainless steel pipewaork fabrication and many others. Screw type stoppers are also used for preventing contamination and vermin entry or as a temporary seal for new pipes, drains and sewers on construction sites.
A major benefit of aluminium plugs is higher heat tolerance over the nylon range, obviating the risk of material softening, leading to potential loss of seal. An additional advantage, particularly in larger sizes, is that the aluminium plugs are considerably lighter than their steel counterparts.
Expanding screw type stoppers are suitable for a standard air test of 100 mm of water over air (0.01 Bar).
Stoppers available for 25mm to 900mm pipes, drains and sewers.