---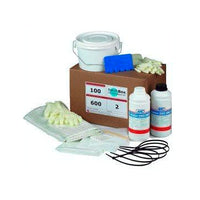 PatchBox is the market leading localized pipe and drain repair kit developed as a convenient and money saving solution for repairing pipes, drains and sewers.
The pipe and drain repair kit contains all the materials for a single drain or pipe repair, making PatchBox a cost effective alternative to buying pipe repair materials in bulk. The resin contained in the PatchBox pipe and drain repair kit is non-shrink, solvent free and low odor.
Cost effective pipe & drain repair
Convenient & Easy to use
Permanent & watertight pipe repair
Environmentally Friendly
Can cope with pipe diameter transition
Tested to WRc standard
Lining Assurance - 50 years assurance
Available for pipe, drain & sewer diameters from 100mm to 1200mm
PatchBox has launched a new compact kit for 100mm & 150mm repair kits the new compact is 60% smaller(volume) than the original kit which means
Less storage space required
Better for the environment-less waste
Price maintained- no price increase since 2000
The same high quality repairs
PatchBox pipe and drain patch repair kit is designed for trade use only
Technical Q & A
Q. What is the cure time
A. On average 2 hours depending upon temperature
Q. Is Patching an accepted repair method for sewers prior to adoption
A. No water companies will not accept for adoption pipes that have been repaired or lined
Q. What size repair kits are available
A. All standard sizes up to 1200mm but any size is available upon request
Q. Is there a 3" repair size available
A. No use a 4" repair kit, bigger kits will fit into smaller pipes but smaller kits will not fit bigger pipes.