---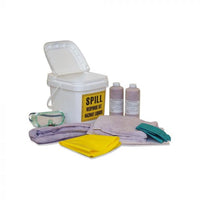 The Caustic Spill kit has the perfect combination of neutralizer, absorbents, and safety products to effectively clean up and contain small caustic spills. Choose a kit for either acids or bases. The neutralizer changes color as the caustic liquid is neutralized.
The Acid Spill Kit is designed to clean up spilled acid, including battery acid (electrolyte) or contain leaky batteries.
Great for garages and battery storage areas.

The Spill Kit for Bases will neutralize, absorb and contain chemicals with a high Ph. Ideal for high alkaline cleaners.
Water Tight 5 Gallon Pail with standard Lever-Latch Screw On/Off Lid. UN Markings 1H2/Y30/S
Weight-Kit:              15 lbs
Weight-Refill:          12 lbs
Measurements:       13"Diam x 16.25"H
Absorbs Up To:       4 Gallons