---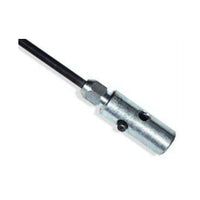 Steelkane rods, manufactured from high tensile steel, are the quickest and easiest way to clean or clear drains and sewers.
Features:
- Easy rodding of longer pipe systems.
- Two-way Lockfast ferrules enable rods to be rotated in either direction without fear of separation.
- All ferrules are cadmium plated and case hardened for long life.
- All-metal construction for durability and minimal replacement costs.
- Easily cleaned.
- Operated above ground - even in deep manholes.
- Quick & easy to use - saving time and money.
For sewer cleaning and conduit threading, where a really strong rod is required, Steelkane is manufactured in 8mm (5/16 inch) and 10mm (3/8 inch) diameters in the following lengths:
- 1 metre
- 2 metres