---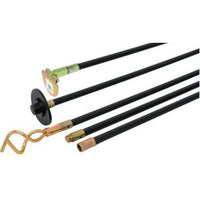 Universal (UNI) Drain Rods are generally acknowledged as the best quality drain rods due to there reliability, strength, rigidity and just the right amount of flexibility. They are manufactured from high grade polypropylene complete with solid brass joints.
Drain rods are used for unblocking and cleaning pipes, drains and sewers - an essential product for the builder, plumber, chimney sweep or handyman.
Drain rods fitted with universal drain rod joints (UNI) should only be rotated in a clockwise direction or they will unscrew and be difficult to remove from the drain.
Universal Drain Rod® pack consists of:
10no Polypropylene Drain Rods
1 x 4" Jointed Scraper to allow obstruction to be dragged back towards the operator
1 x 4" Plunger to build up water pressure which forces the obstruction clear
1 x 2" Double Worm Screw to pierce blockages such as paper or rags
1 x 4" Nylon Brush
Application Guide
¾" Rods are for general purpose use, small diameter drains and septic tanks.